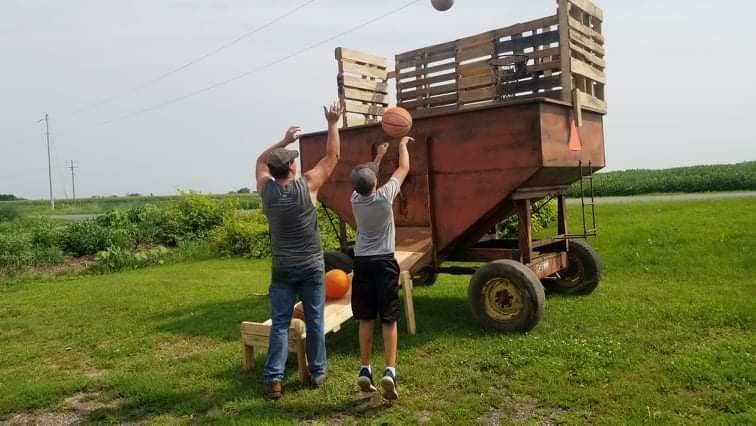 Gravity Basketball!
Gravity Basketball is a new addition to Hustlerfest and a fun one. It is a free activity unless we are holding special little contest, which we may do throughout the day to add some fun. The activity will be set up the whole day. Come on out and try it out and have some fun!
Back Seat Driver Contest
$1 per person. ($2.00 per team)
Driver is blindfolded and and the passenger in the wagon behind has to tell the drive where to turn on the obstacle course.
Each cone you hit adds 10 seconds to your final time.
THE GOAL
To get the least time of the day.
It is 100% Payback to the top 3 teams.
August 26th 3:00 Exhibit Hall Grounds
Cake Walk
Hosted by the Orange Mills 4-H Club.
25 Cents per round.
August 26th 12:30-2:00 Exhibit Hall
The chairs are placed in a circle with numbers on them. When the music starts you walk in a circle (Like musical chairs). When the music stops you sit. If you number get drawn you win the dessert of that round.
GARDEN TRACTOR PULL
A tractor pull done with lawn tractors.
Travis Schaub 608-387-2915
August 26th 3:30 Track
BBQ Chicken Dinner
Provided by the Hustler Booster Club
$12.00 a plate.
Half a chicken, potato salad, baked beans, dinner roll, pickles, cookies, coffee, and milk.
The BBQ chicken made right here at the Hustlerfest grounds on our own BBQ pit.
Served by all the nice little ladies in town.
Kids Pedal Pull
FREE to kids ages 11 and under.
Kids 3 and under are on a small pedal tractor pulling a small eliminator, even if they can not reach the pedals we would love for them to have a tiny ride and get a photo. They will still go at least 10 feet.
The children's ages are group in to classes of every 2 years.
The top 3 winners of each class will each receive a trophy.
For more information check out our Pedal Pull page HERE
Big Tractor Pull
Sit back on the bleachers and visit with your family and friends while watching while watching tractors roar down the track.
If you need ear plug stop by the Grain Bin and purchase a pair.
$20 a class per tractor or truck.
For other information check out the Tractor Pull page HERE.
Corn Hole Tournament
Check main schedule for details
Bring your own partner.
$20.00 Per team.
BUST RULE IN EFFECT.
DIRECT LINK TO CORN HOLE TOURNAMENT.
August 26th Sign Up 4:00, Start at 5:00
Exhibit Hall
Log Sawing
$1 per person ($2 per team) Per try.
Beer Palace August 25th 8 P.M.
Everyone is welcome to come try an old fashion 2 man cross cut saw.
The event is timed. The top 3 winners of each category split money for that category.
Categories are Men's, Women's, Couples, and juniors.
Volleyball
Tournament will be held at Hooterhaus
6 man/ woman Competitive Co-Ed Power (3 guy/ 3 girl)
$60 Entry Fee per team
100% Payout
Each team will play every team one game. Top 4 teams will get put into a double elimination bracket.


For any questions
Message Brent 608-548-5430
Direct link to Facebook Event for this year.
Past Events
Chicken Throwing Contest
Bail Throwing
Nail Pounding
Parade
Pie Eating
Cracker Whistling
Hog Scramble
Pickled Pigs Feet Bob
Mini Rods
Face Painting
Bed Race
Paint Night
Motorcycle Ride
5K- Run Through The Mud
Bike Race
Quilt Auction
Craft Fair
Supercross
Tug A War
Inflatables